Asia's Foremost CONFERENCE and EXPO on Corporate Social Responsibility
October 18 & 19, 2011 | Edsa Shangri-La Hotel, Manila, Philippines

Background
About AFCSR 2011
After nine successful conference runs in six of Southeast Asia's major cities – Manila, Bangkok, Kuala Lumpur, Jakarta, Ho Chi Minh City, and Singapore, the 2011 Asian Forum on Corporate Social Responsibility (AFCSR) is returning to its roots in the Philippines to celebrate its 10th year of running the event. Unique to this year's conference, the theme Strategic CSR: Creating Shared Value will be supported by an overriding FRAMEWORK.
The 2011 AFCSR will not only showcase best practices, but more importantly the conference aims to develop a body of knowledge that will serve as reference to business and non-business sectors alike by focusing on processes. The framework emphasizes the processes in developing strategic CSR. It positions CSR within the companies' value chain in relation to the roles and responsibilities of both internal and external shareholders and stakeholders with regard to company CSR practices. The framework is both an adaptation from existing 'Western' sources and from the RVR Center's research in the region.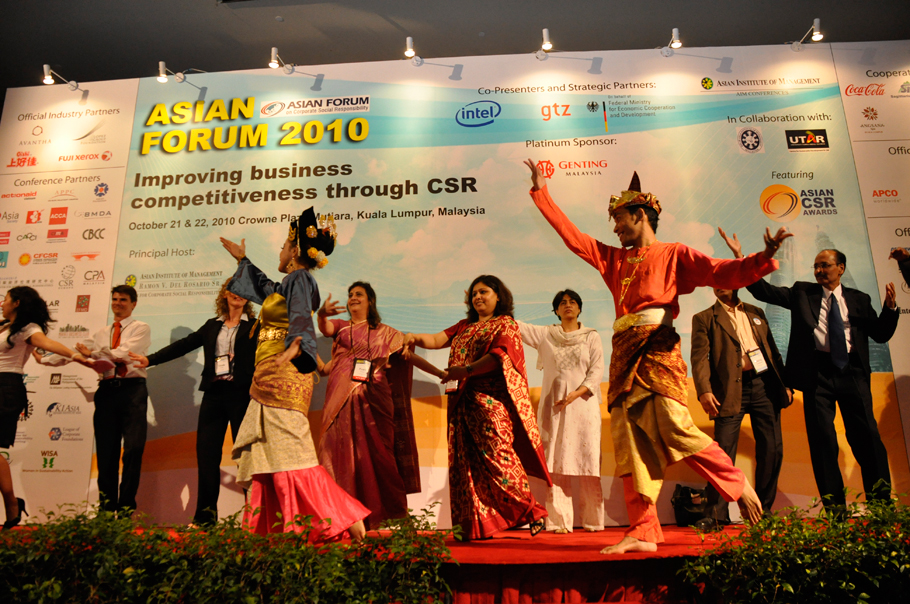 A VARIETY OF MODES will be utilized including longer Q & A sessions, panel discussions, workshops, and mini-debates. In addition, breakout sessions have been categorized under four SPECIAL INTEREST TRACKS:
CSR in a global environment – the sessions will focus on CSR efforts, including its effects, standards and regulations, on a global level
Partnering and collaborating – these are sessions that focus on engaging and leveraging on different public-private partnerships and multi-company collaborations
Heavy footprint – these are sessions that focus on operating in heavy footprint industries such as mining, energy, and real estate
Practical challenges – all sessions will focus on how to's in sustaining CSR practices
These tracks will allow the delegates to carefully choose the sessions that are most relevant to them and to their organization. Another innovation, a CSR SIMULATION EXERCISE is also being considered as part of pre-conference activities.
Structured AFCSR-NETWORKING (A-NET) SESSIONS will be provided for delegates, sponsors, speakers, moderators, the media and other guests to create their own topics. The special A-Net sessions will serve as a venue to exchange ideas on topics not covered in the conference but are of special interest or advocacies of the participants. The sessions also provide the opportunity to network with like-minded CSR practitioners.
The Center, through the support of the Intel Corporation, has been generating new and relevant practitioner-oriented research beginning with pre-conference focus group discussions (FGDs) in five key countries – China, India, Indonesia, the Philippines and Vietnam. Outputs of these FGDs serve as input to the program content of the conference.
Finally, this year is special as the Forum celebrates its 10th Anniversary. The AFCSR now has an IN-HOUSE ORGANIZING TEAM. Thought leaders and experts from the RVR Center provide a more hands-on management in both the process and content of this two-day conference.