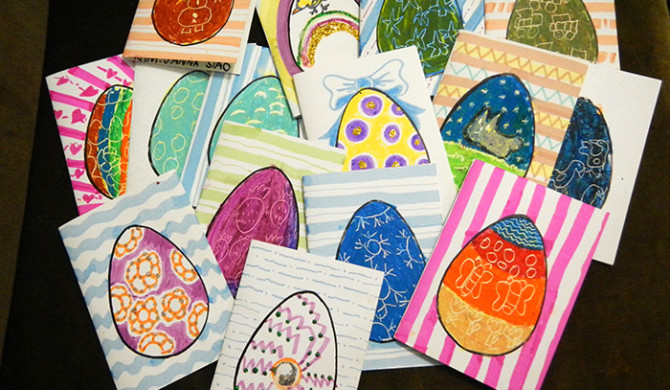 My kid likes snail mail, so she's sending out Easter cards to friends
Every time I check our mail box with my little girl, she would always say, "Who's that for?", "Is there any mail for me?", "I wish I have my own mail!".
In this day where we live in technology driven world, where everything can be accessed online, via internet, email, or phone; sometimes it is nice to look back at the old ways. We seldom get snail mails now, and when we do, they were just billing statements, which I must say are getting lesser and lesser as well as they are transitioning to paperless/online notifications already. That is fine though because it tends toward greener and more environmental friendly ways. But sometimes, I myself miss receiving snail mails too. This reminds me of a comic strip I saw a few weeks ago, which is quite funny and ironic. The first strip shows a scene about 15 years ago, where one guy was so happy that he was able to receive one email, while his friend was so sad that he has a bunch of snail mails. Then the second strip shows the present time, where one guy was so happy he got one snail mail while the other guy was so sad that he has thousands of emails. 😀
The other day, while my daughter and I was onboard the bus heading home from school, she's so excited about the upcoming Easter vacation, then she suddenly remembered one of her friends whom she hasn't seen for a long time. She asked me if she could send her an easter card. I told her that we do not have her address, and she replied – "Ask her mommy!". She is totally right, why didn't I think about that right away? Perhaps I am already dismissing the idea of sending a snail mail and just say "Hi" to her friend via Facebook. So right then and there, I texted her friend's mom and asked for their postal address. She replied right away and she also told me that Janna's gesture was so sweet. Then Janna and I started this project of sending all her friends here in HK an Easter card. We both got to work as soon as we reached home, she started making the cards, while I started soliciting my friend's postal addresses.
I first helped her with her materials. A set of thick papers, cut in half, then folded in half.
Then I made an egg shape template which i used to trace the egg in each of the cards.
Then Janna, started designing all the cards using different medium and styles.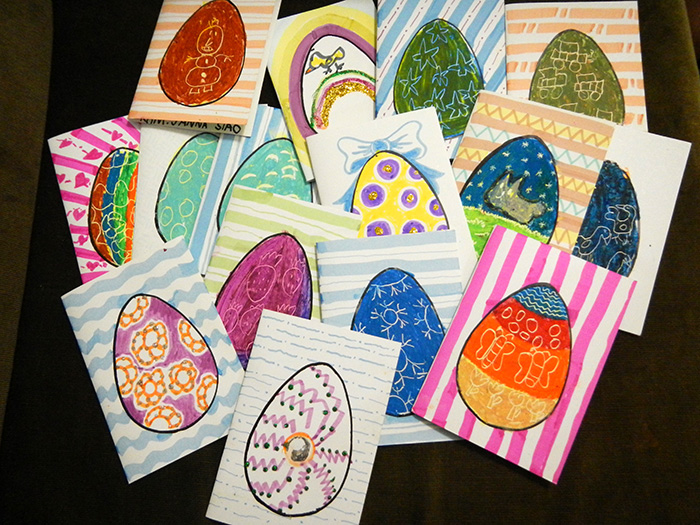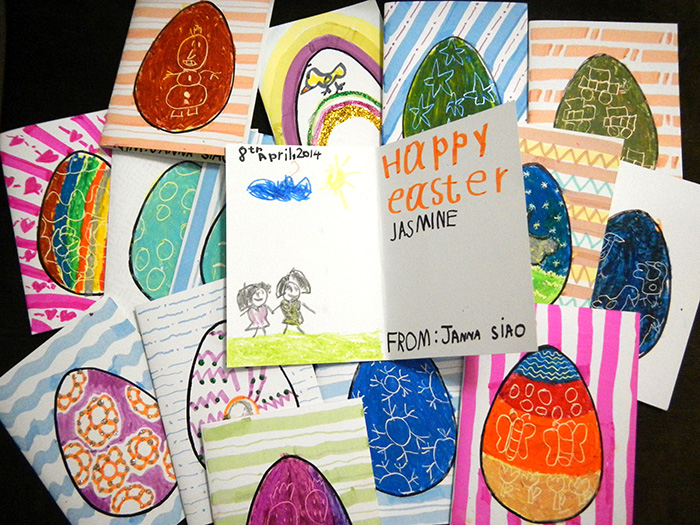 Here again are the cards she made.
It's great that she is able to experience this communication method before it's gone.
To our friends here in HK, wait for your easter cards on your mailbox! 😀