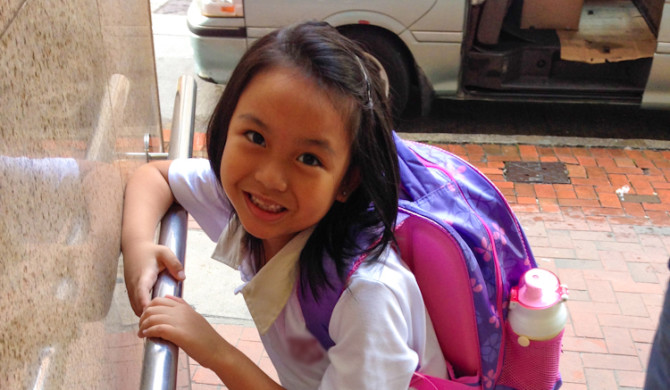 Today is a very busy morning in our household, although school for my little boy started weeks ago, this is the first day of school for our little Primary 1 girl. She is the earliest bird to leave our nest this morning because her school bus' pick up time is at 7:15 (although her bus was late earlier and arrived around 7:25 already), we need to be at the foot of our building around 7:10am.
To prepare for this day, we slept really early last night, at about 8pm, we were all (3 kids and me) snoring and dreaming away, so it was quite easy for everyone to wake up at around 6am.
Janna was the first to wakeup, then me, then after a few minutes while Ate was already having breakfast, John emerged from the bedroom as well. I needed to do some tasks such as printing and putting name tags on her books, sharpening her pencils, reviewing her school's parent's info booklet,  just a few minutes before we left (knowing me, I am just a fan of cramming and last minute tasks :P) which made my morning schedule a bit hectic.
So after Ate had her breakfast, bathed and dressed up for school, we went down and waited for her bus (which is about 10minutes late).
Soon after ate left for school, my little boy left as well, then hubby left for office. And now, I am home alone, a bit lonely and missing my kids already, wondering what I would do with this sudden free time as i wait for my kids to come home… yeah… write this blog 😛